Planning the Timber Frame Home?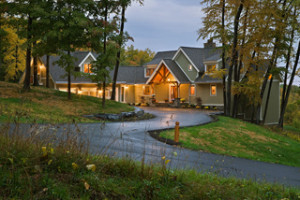 Most people have some kind of a vision as to what their dream home is going to look like and we would be honored to take your thoughts and turn them into reality. We achieve this by offering a full design service from simple stick drawing or thoughts to a full scale stamped set of drawings. But before any of this can happen you must first find that perfect lot and design a home that fits the site.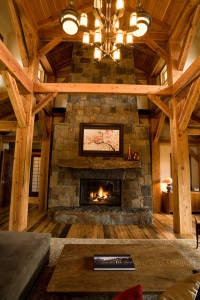 Certain criteria that are unique to each site makes for the most efficient design considering the orientation of the home to the Sun. This way you can achieve all the amenities that you wish in the most cost effective design available. Some sites even offer a natural slope in which you can utilize some of the space you desire in a walk out basement; possibly enabling you to downsize the actual square footage you originally had in mind since you are now able to take advantage of relatively low cost space in the basement.
We look forward to walking your site with you and would hope you allow us to give our perspective as to how you can accomplish all that you have in mind. You need not be concerned about whether a beam should be an 8 by 10 or a 10 by 14 our engineers will figure all that out for you. Just let us show you all the different types of frames we can produce and let your mind wander to the important aspects like where to place the Master bedroom or where you would like to curl up to a cozy fireplace.